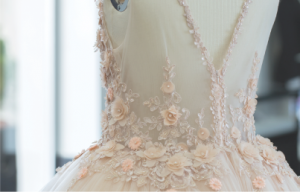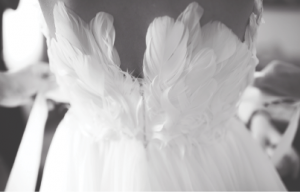 Custom made dresses for all special occasions
By appointment
Established in 2018, L.V. Couture is designed by Lucy Vannelli; Founder and Creative Director of www.dressscoop.com
Defined by its luxurious bridal and special occasion gowns; the brand is exclusive to Dress Scoop.
Each dress is designed using the most luxurious silks, couture laces, and sparkling hand-beaded embellishments.
The Process
Our dresses are made-to-order; we work intimately with you in creating the perfect gown.
Designing
Beginning with a one-on-one consultation with our designer to get to know one another and discuss any ideas & inspiration you may have. Once you have agreed to proceed, all ideas and inspiration will be amalgamated and the designing process will commence.
Sampling
The sampling process consists of making-up a certain amount of mock dress/s until the fitting is perfect. This process gives enough time to make any changes to the design, if necessary. Once all is confirmed our designer will then proceed to make the final dress.
Time frame
We recommend beginning the process with us 6-8 months before the wedding day—there is a considerable amount of time and detail needed for each individual garment. If you are wanting to proceed with us and you do not fall within this time frame, we are happy to discuss this further. 
Consultation fee
There is no fee!
Receiving your garment
Local: Pick up/Courier (optional)
Payment
If you decide that you want to commit to L.V. Couture you will be invoiced with a 60% deposit. The amount owing can then be paid upfront or in installments throughout the dressmaking process. The amount must be paid in full before delivery.
 *Please note deposits are non-refundable